Leadership Jefferson County
Building Relationships for the Future of Our Community
Leadership Jefferson County is an initiative of the Envision Jefferson County project. Through community conversations and surveys, the Envision team narrowed the input to six initiatives. Leadership Jefferson County is an action project of Initiative #5: Building a Positive Community Through Collaboration & Leadership.   
Connecting Community Leaders
Leadership Jefferson County class members participate in 10 bi-weekly sessions. Local community leaders and experts lead each session and cover many topics relevant to our county and how they connect. This is a great opportunity for our participants to network with other community members and see where their skills and passions lie. A recognition luncheon is held at the end of the term to celebrate the participants.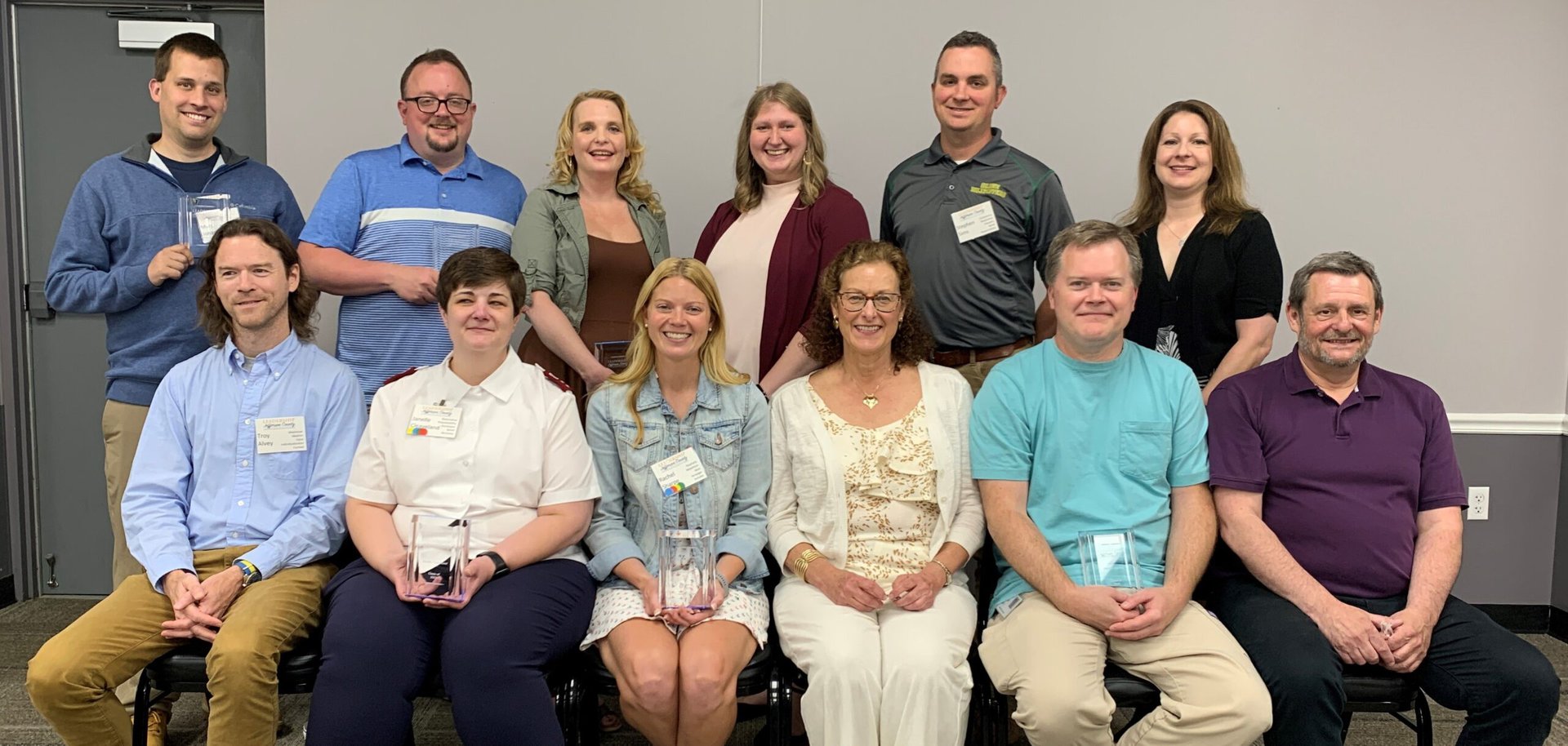 Agriculture & Natural Resources
Business & Entrepreneurship
Community Health
Education
Government Agencies & Organizations
History
Industry & Economic Development
Nonprofits & Volunteerism
Social Services
Tourism
Participants of Leadership Jefferson County will:
Have a better understanding of resources & relationships within the community
Become more active in the community
Have a better understanding of leadership roles in the community
Have an increase in community pride
Understand where to channel leadership energies
2023 Leadership Jefferson County Steering Committee
Marta Belt – Chair
Ivy Tech Community College
Eddie Adkins
SuperATV
Rob Barlow
Barlow Law Office
Bill Barnes
Community Foundation of Madison & Jefferson County
Nadja Boone
Norton King's Daughters' Health
Kim Brant
Hanover College
Andrew Forrester
VisitMadison
Margo Olson
River Valley Resources
Greg Schneider
Ivy Tech Community College
Jessica Spiess
Historic Madison, Inc.
Larry Truax
Grote Industries (ret.)
Applications are now open to join the Leadership Jefferson County Class of 2024! Sessions will be held from 8am-1pm, with lunch served. Materials and refreshments will be provided.
Enrollment Fee:  $250
Application Deadline:  October 31, 2023
Click the button to the right to start your application today!
| Column 1 | Centered Column | Column 3 |
| --- | --- | --- |
| Value 1 | Value 2 | Value 3 |
| Value 1 | Value 2 | Value 3 |
| Value 1 | Value 2 | Value 3 |
| Value 1 | Value 2 | Value 3 |
Josh Abbott – Fairfield Inn/Historic Eagle Cotton Mill
Darren Aldridge – Norton King's Daughters' Health
Troy Alvey – Ivy Tech Community College-Madison
Dora Anim – Bethany Legacy Foundation
Janelle Cleaveland – The Salvation Army-Madison
Maranda Elswick – River Valley Resources
Matt Johann – Madison Precision Products
Aditi Marudwar – Grote Industries
Ericka McIntyre – Ericka McIntyre Editing & Writing
Cheryl Nelson – Retired
Lauren Purcell – Norton King's Daughters' Health
Becky Pyles – SuperATV
Rachel Sharpe – Hanover College
Stephen Sims – Prince of Peace Catholic Schools
D.J. Walch – Hanover College
David Woolpy – Boys & Girls Club of Jefferson County
Leadership Jefferson County
Course Topics
Participating in Leadership Jefferson County provided opportunities to better understand myself, to get to know and appreciate my fellow classmates, and to receive and process a wealth of information presented by an impressive array of community members. I'm seeing this town through new eyes and have gained the motivation and confidence to begin to step outside of my comfort zone and participate as a community member.
Leadership Jefferson County was nothing short of life changing. I came into the program wanting to learn how to be more involved in the community and I left not only involved, but motivated to be a part of positive change and growth in Jefferson County.
Leadership Jefferson County was an invaluable experience and helped me better understand the various sectors in our community (such as government, healthcare, nonprofits, education, etc.) and how they work together to encourage growth and build a thriving community. I highly recommend this program for anyone that is committed to this area and wants to keep Jefferson County a remarkable place to work and live.
"Being part of the Leadership class of 2022 opened so many doors to the Jefferson County community. I met great people and learned what makes Jefferson County so exceptional as a place where we ecan live, work, and play."